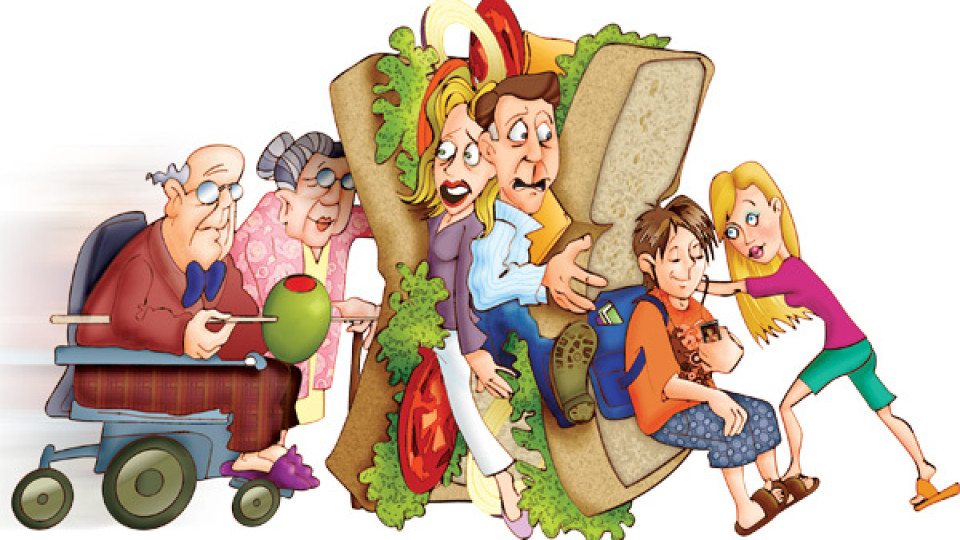 Americans are aging more rapidly than ever before. According to the US Census Bureau the number of older adults 65 and older will double by year 2030 to over 70 million. Additionally, the number of older adults suffering from some form of dementia will also increase dramatically in the next 20 years. It's also important to note that only 8% of older adults currently reside in an institutional setting such as a nursing home or assisted living facility. The majority of the elderly in the U.S. either live at home or with a family member which typically includes adult children who are raising their own families. They are called The Sandwich Generation. According to the Pew Research Center, 1 out of 8 Americans aged 40 to 60 is both raising a child and caring for an aging parent.
This term Sandwich Generation was officially added to the dictionary in 2006. According to Carol Abaya, a leading expert in this area, caregivers fall into one of the following categories:
Traditional: those sandwiched between aging parents who need care and/or help and their own children.
Club Sandwich: those in their 50s or 60s sandwiched between aging parents, adult children and grandchildren, or those in their 30s and 40s, with young children, aging parents and grandparents.
Open Faced: anyone else involved in elder care
I'm part of the Traditional Sandwich Generation. In another words, I am sandwiched between my aging mother and my two children who need constant care and attention. There are many challenges involved in balancing a normal daily routine while making sure everyone's needs are met. As a caregiver, it's important to take care of yourself so you can take better care of others. Here are some helpful suggestions:
Quiet Time – Set aside 15- 30 minutes each day for "quiet time" – a time to relax and pray/meditate. Close yours eyes, play soothing music and clear your mind. Early morning seems best for this.
Exercise at least three times per week – Most of us are quite busy and may not have time to make it to the gym. Walking in the neighborhood for 30-45 minutes will do the trick.
Time with friends – Having a quick coffee or lunch with friends helps to recharge your battery. Friends are a great source of comfort and support.
Seek outside help – speak with your parents/grandparents physician and your local Area Agency on Aging for recommendations on professional caregivers as well as places that offer respite care including adult day centers.
Visit the Aging Life Care Association website for a list of certified geriatric care professionals in your community.
There are other issues to consider including financial planning with your parents and/or grandparents and long-term care insurance. July is the official national Sandwich Generation Awareness month which has helped to raise awareness of the special issues involved in caring for elderly family members and young children. For more information on the Sandwich Generation you can visit one of following sites:
www.thesandwichgeneration.com
www.thecaregiver.com
www.AARP.org